Important Update: 8/28/2012 –
This UI pack will be maintained and updated prior to the Mists of Pandaria launch. Check Back for updates, or follow me on Twitter (@Derevka) for more regular updates.
December 2011 Version of DerevkaUI is available for download here at WoW Interface.
Below is a screenshot with labels of some of the Addons that are visible.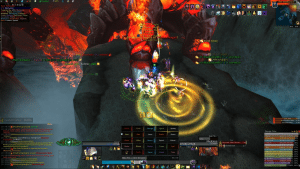 Check out the Derevka UI World of Warcraft 4.3 in action:
Frequently Asked Questions
Q: What is the name of your buff/debuff mod?

A: I use Aura Frames, you can access the Satrinas commands via /af
Q: What Unit Frames are those?

A: I use STUF Unit Frames
Q: What is this big sheild in the middle of my screen?

A: That is a Power Aura alerting me when I enter combat without Inner Fire/Inner Will active. If you are not a priest, you might want to disable that via /powa
Q: Do I need to update my Clique profile?

A: Yes, you can access that via your spellbook, or /clique
Q: How do I move Grid to fit my resolution?

A: You will need to unlock the frame in the Grid menu (via /grid) and under the Layout menu
Q: Where can I download this compilation?!?!

A: WoW Interface here.
Are you a fan of League of Legends? Then play fantasy eSports at DraftKings! Daily fantasy sports site, DraftKings, offers real money fantasy sports contests based on the League of Legends tournament circuit. Read a review of DraftKings here! Visit BettingSitesUSA.net for the most trustworthy sites for betting online in America.
You can also bet on eSports at leading online sportsbook bet365.com! Redeem this exclusive bet365 bonus code for a $200 welcome bonus when registering your new account (certain jurisdictions apply). Learn more at http://WilliamsPromoCodes.co.uk
www.LiveFootball4FREE.com shows you how you can watch streaming live football for free.