I have officially replaced my Power Auras with Weak Auras.

Weak Auras has similar functionality that Power Auras has, with the exception that it is easier to use, has greater functionality, and most importantly: has been updated fully for Mists of Pandaria.
Updated: January 2013
There are two sets of auras I am sharing, one is my CD Tracking aura. This aura will DYNAMICALLY change based on spec (Shadow, Holy, or Discipline) as well as what spells you've spec'd into. This aura group will give you a cooldown/cooldown remaining for our pertinent spells. (They are easy to update, add or subtract auras from in Weak Auras).  
Click here for the import of that aura.
The second is my Throughput Tracking bar (click here) which will track Evangelism, Evangelism Stacks, Power Infusion, Spirit Shell and Archangel.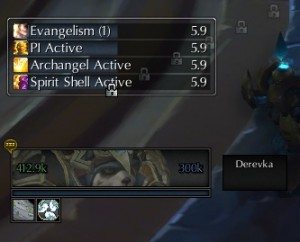 This is my aura for Rapture
We'd like to thank the following sponsors and hope you visit their sites!
Hey all you gamers, if you haven't noticed, what is now called "eSports" is gaining worldwide popularity. eSports is the competition of video gamers in a particular game, usually in a team competition. You can now bet on eSports tournaments as well as play fantasy eSports! League of Legends is the most popular game in the eSports category, but there are many other video games that comprise the eSports industry.
DraftKings is the leader of fantasy sports and you can draft a fantasy eSports team for upcoming eSports tournaments. Read a complete review of DraftKings here and find out about the benefits of joining DraftKings here.
While you're at it, learn how to play fantasy football too! Read this beginner's article on how to play fantasy football.
William's Promo Codes offers the latest and best promo codes for the top i-gaming sites. Check out their exclusive William Hill promo code for a free sports bet – risk free!
For USA-based i-gaming players, we recommend opening an account at Bovada. Find the latest Bovada bonus code here for a big welcome bonus, courtesy of Online Casino USA Bonus.